Rio to Buenos Aires with WWF Giants of Antarctica
Booking Dates
07/02/2020 through 02/04/2021
Travel Dates
07/02/2020 through 02/24/2021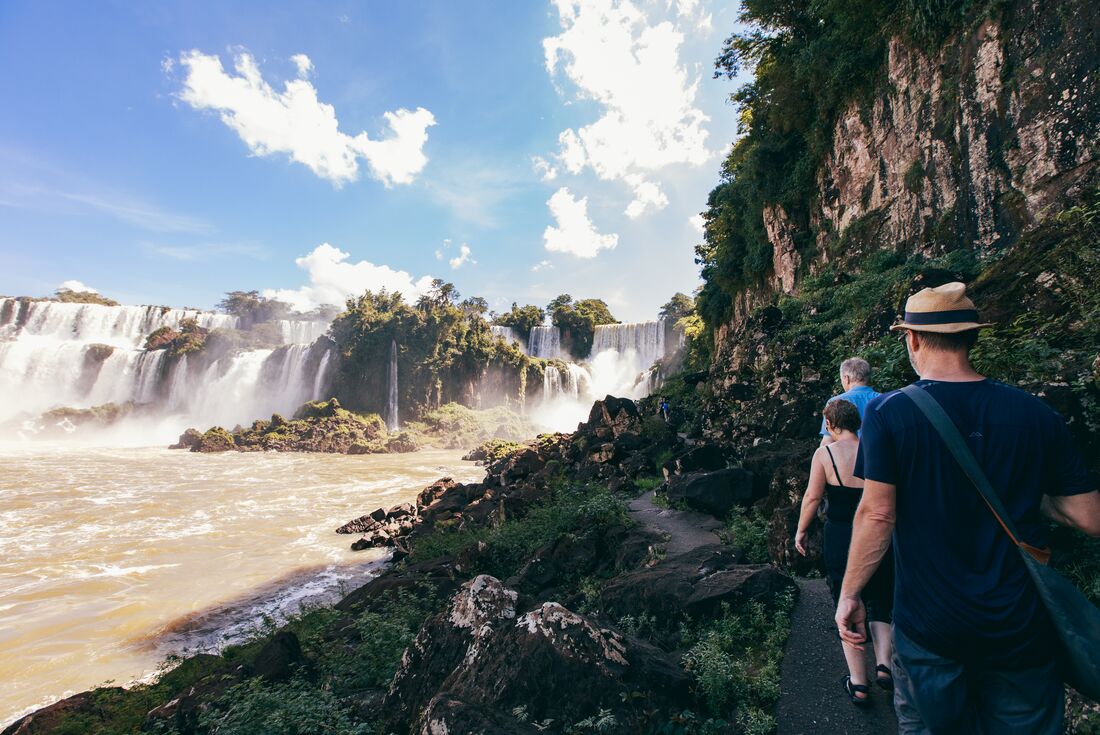 Rio to Buenos Aires with WWF Giants of Antarctica

Contrast the vibrant and sultry pulse of two of South America's liveliest cities with the stark and glacial beauty of Antarctica on this 18-day tour, including a trip to one of the world's grandest series of waterfalls. Take in the unique atmosphere of Rio before flying to immense Iguazu Falls. Continue to Buenos Aires to learn the tango and soak up the heat before flying to the world's southernmost city for an unforgettable expedition to the Great White Continent joining special guests from the World Wildlife Fund – Australia (WWF- Australia). Feast your eyes on white mountains, incredible wildlife and towering icebergs to cap off the ultimate adventure.  Scout icy waters and white shores for whales and other critters by day, then relax and enjoy a fascinating lecture program by night. Alongside our regular team of Antarctic experts, WWF-Australia scientists will join this tour to share insights into whale conservation as they conduct cutting edge research on these underwater giants.

Activities
Rio de Janeiro – Total Rio Tour Combo 1: Santa Teresa, Corcovado, Christ & Copacabana
Iguazu Falls – Entrance & tour of the Brazilian side of the falls
Iguazu Falls – Entrance & tour of the Argentinian side of the falls
Iguazu Falls – Guarani community visit
Buenos Aires – Tango demonstration by professional dancers
Buenos Aires – Tango dance lesson
Buenos Aires – Full-day guided tour
Highlights
With two full days at Iguazu Falls, you can marvel at this beauty up close on the Argentinean side and get sweeping panoramas from the Brazilian side.
Gaze over the dazzling city, mountains and bay of Rio de Janeiro from the foot of the famous Christ the Redeemer statue.
Be among orca and humpback whales, hear cracking glaciers pierce the Antarctic silence, and experience, with all the senses, scenes that seem windows to another world.
Our experienced leaders have made hundreds of polar voyages. Learn about the history, geography and wildlife of the Antarctic from experts in marine biology, glaciology and history.
Travelling with Dr Ari Friedlaender and a team of researchers in peak humpback whale season, you'll get the chance to learn about state-of-the-art whale research techniques and marine conservation. Good timing!
Rest assured you will leave only footprints behind. Our Antarctica expeditions are carbon offset, we serve only sustainably-sourced seafood, avoid single-use plastics and use biodegradable cleaning products on board.
Itinerary
Destination
Pricing
Terms and Conditions
| Day | Description | View All |
| --- | --- | --- |
| Day 1 | Rio de Janeiro | Details |
| Day 2 | Rio de Janeiro | Details |
| Day 3 | Iguazu Falls | Details |
| Day 4 | Iguazu Falls | Details |
| Day 5 | Buenos Aires | Details |
| Day 6 | Buenos Aires | Details |
| Day 7 | Buenos Aires | Details |
| Day 8 | Ushuaia | Details |
| Day 9 | Ushuaia – Embarkation Day | Details |
| Day 10-11 | Drake Passage | Details |
| Day 12-15 | Antarctic Peninsula | Details |
| Day 16-17 | At Sea | Details |
| Day 18 | Ushuaia – Disembarkation Day | Details |